Welcome to Golden Age Cheese
We are a wholesale and retail cheese manufacturer
located in Woodhull, NY serving you since 1983. We produce several types of cheese every day from: Fresh Mozzarella, Mild to aged Cheddars, Fresh Plain and Flavored Cheddar Cheese Curds, Specialty Cheddars, a variety of Smoked Cheeses, and more! Natural is healthier! Our cheeses are 100% natural! Our cheddars are all naturally aged, our specialty cheeses are all naturally flavored, and our smoked cheeses are all naturally smoked! 100% local rBST free milk, and we never manufacture our cheeses with animal rennet, we use strictly vegetable or microbial rennet. We take pride in our quality cheeses, and sell them at the best prices found online, guaranteed!
Lawrence Hickey stretching fresh Mozzarella. May, 1985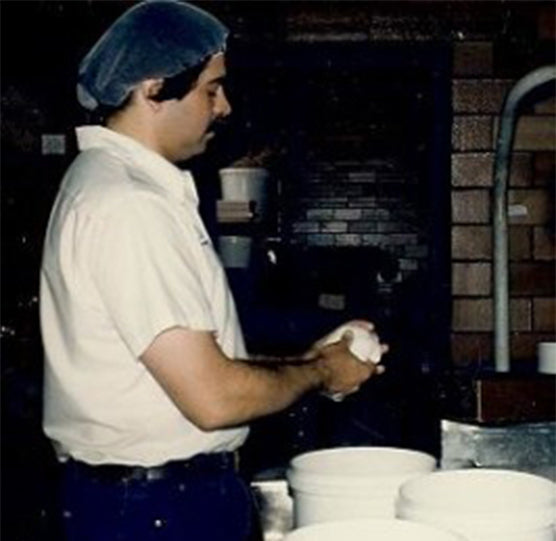 HISTORY The Golden Age Cheese Company
is a family operated business, in the second generation of the Hickey family. In 1983 Lawrence and Angela Hickey opened Golden Age Cheese in Woodhull, New York; a small township less than 25 miles west of Corning. Having worked in the cheese industry since the mid 1970′s, Lawrence developed a passion for the art of cheese making. The business mission statement is "to produce the best natural quality cheeses". With long hours and dedication to perfect the product, the company grew and achieved consistent, delicious, pure and fresh cheese. In the early years weekly production was about 300 pounds; today it has grown over one-hundred fold. Sadly, Lawrence Hickey passed away in October of 2004 at the age of 48, but the dream and passion to make all natural quality cheeses has endured. We still make all of our cheeses by hand, and use the same techniques and recipes as we did in 1983.